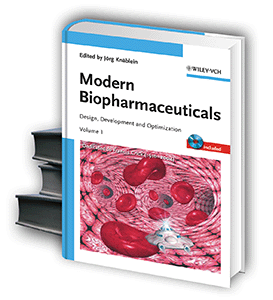 The Guiness Book of Biotechnology
Biopharmaceuticals currently represents the fastest-growing segment in the international pharmaceuticals market. The interest in novel technologies for discovery, design and production of biopharmaceuticals is continuously growing and there is no other comprehensive book available that deals with all the important aspects.
In this comprehensive four volume book "Modern Biopharmaceuticals - Design, Development and Optimization", the focus will be on the different technologies and modern approaches to development of sophisticated and innovative biopharmaceuticals. Different techniques are introduced, which were only recently developed and come from expert scientific labs in industry and academia. Some of the content is so brand new and intriguing that it has just been submitted to (or already accepted by) peer-reviewed journals. These nearly 70 chapters, together with the insight into the global changes in health care systems and the respective impacts on the development of innovative drugs, will make this book so unique. Additionally, the case study on Recombinate provides a good overview of the entire drug development process for a blockbuster biopharmaceutical, including - alongside approval - planning of the launch and market supply.