PhotonicsViews Magazine – New in 2019!

PhotonicsViews, the successor of Laser Technik Journal and Optik & Photonik , is a business-to-business magazine that highlights innovations and developments in the fields of optics, photonics, and industrial laser technology. These include optical components and systems, radiation sources from terahertz to EUV as well as electro-optics, silicon photonics, optical measurement technology, and a special focus on new applications in micro and macro laser material processing.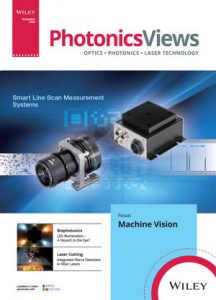 PhotonicsViews pilot cover, 2018 (Source: Wiley)
"PhV" is online open at WileyOnlineLibrary.com, (online ISSN: 2626-1308) all technical articles are directly citable through digital object identifiers (DOIs). PhotonicsViews is published in English six times a year, every two months, beginning with the February/March issue. For more information, please take a look into our 4-page Flyer (PDF, 1.5 MB).
<! MAN 2020-Jul-24 Anzeige p_issn nur wenn ungleich e_issn -->
Print ISSN: 2626-1294
Online ISSN: 2626-1308
Sprache der Veröffentlichung: English