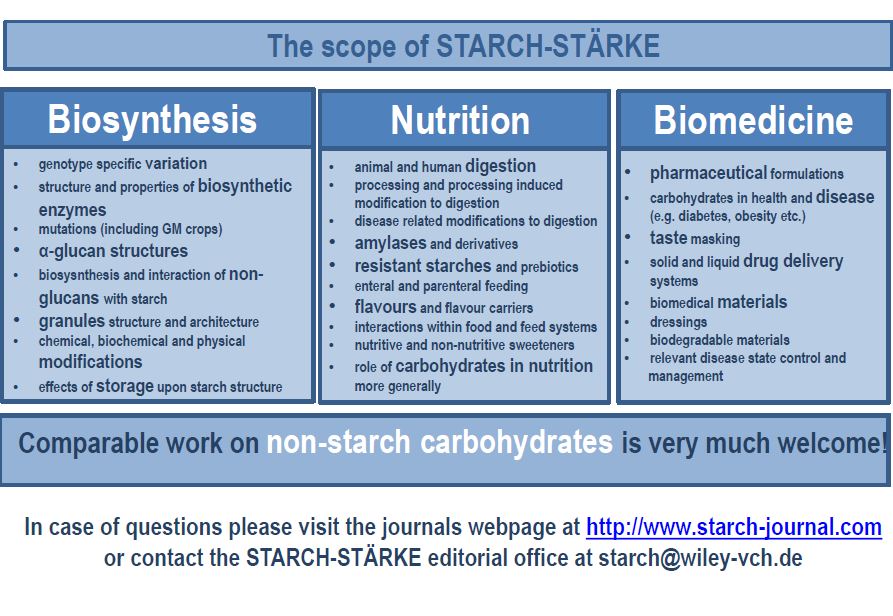 Download Flyer
The journal aims to be the premier point of reference for modern starch and non-starch carbohydrate related research and knowledge, having evolved from a focus on traditional processing of starches and their industrial applications.
The journal accepts research papers, reviews, notes, and letters to the Editor across the breadth of starch and no-starch carbohydrates research and utilization. The key areas of focus are i) biosynthesis and modification, ii) nutrition (food and drinks, feed and clinical nutrition), and iii) biomedical. Authors are encouraged to submit new research findings within these areas and benefit from reading other articles within their field of interest.
Starch and non-starch carbohydrates related biosynthesis and modification work accepted for submission to the journal includes: genotype specific variation; structure and properties of biosynthetic enzymes; influence of the environment on starch biosynthesis; mutations (including GM crops); development of α-glucan structures and their interactions; biosynthesis and interactions of non-glucans within (and associated with) starches (proteins and lipids); granule structure and architecture; chemical, biochemical, and physical modification; investigative techniques; and effects of storage upon starch structure.
Work relevant to nutrition of interest to the journal includes: animal (including fish and bird) and human digestion; processing and processing induced modification to digestion; disease-related modifications to digestion; amylases; derivatives used within the food and feed industries; resistant starches and prebiotics; enteral and parenteral feeding; flavors and flavor carriers; interactions within food and feed systems; nutritive and non-nutritive sweeteners; calorie and weight management; and fermentation.
Biomedical research related to the journal's interests include: pharmaceutical formulations; excipients; taste masking; carriers; encapsulation; solid and liquid delivery systems; dosage formats; topical
Additional Benefits:
Online access via Wiley Online Library
Accepted Articles/EarlyView for faster publication
Impact Factor: 2.741 (2021 Journal Citation Reports)
<! MAN 2020-Jul-24 Anzeige p_issn nur wenn ungleich e_issn -->
Print ISSN: 0038-9056
Online ISSN: 1521-379X